Virtual Cancer Cachexia Conference 2020
September 10-11, 2020
Abstract Submission
Thank you to all who submitted an abstract!
Due to the condensed virtual program, submitted abstracts will be considered for two possible categories. Both categories can be selected, but be aware that the category for the Next Gen speakers follows specific guidelines – see below.
Invited Next Generation speaker (10 min + 5 min Q&A) – 6 slots available
General poster presenter
---

Next Generation Researchers in Cancer Cachexia
At the 4th Cancer Cachexia Conference in 2018, a new session was added to feature promising Next Generation Cancer Cachexia Researchers. Photo below show the 6 Next Gen speakers from our 2018 meeting. These speakers were provided travel awards, which included complimentary registrations for our current 2020 conference to ensure the next generation of cancer cachexia researchers.
Based on favorable reviews that we received following our 2018 conference, we are pleased to feature this session again in 2020 and welcome abstract submissions for this special designation. In this session, we will feature the most qualified applicants encompassing a diverse range of topics ranging from basic to clinical research. Six applicants will selected for 10 minute oral presentations with an additional 5 minutes for discussion. Efforts will be made to ensure that selected speakers are balanced by research type (basic, translational, clinical). Travel awards will be provided to those selected to be applied as a complimentary registration for our 2021 conference in Montreal, Canada.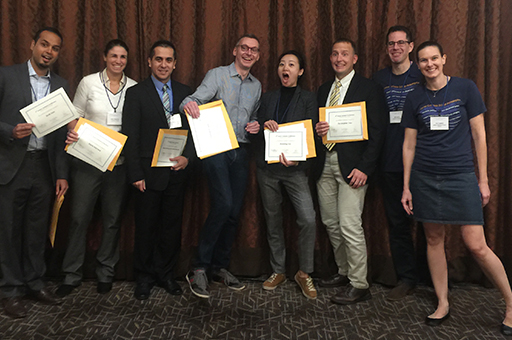 2018 Next Generation Researcher Session (left to right): Rishi Jain, MD, Daria Neyroud, PhD, Seyyed Mohammad Reza Kazemi-Bajestani, MD, PhD, Andrea Bonetto, PhD, Haiming Liu, PhD, Christopher Coss, PhD, Neil Johns, MD (Chair), Erin Talbert, PhD (Chair)
Criteria to be considered as a speaker to this special session are the following:
Eligibility Criteria:
Submitting an abstract for presentation at the 2020 Virtual Cancer Cachexia Conference, September 10-11, 2020
Early career cancer cachexia researcher (basic science, translational or clinical) who has a MD/PhD (or equivalent) including trainees (residents/fellows), post-docs or individuals within the first 5 years of their first faculty appointment
Selection Criteria:
When submitting your abstract (same instructions as general submission), please include:
Personal Statement (250 words; paste your statement into the text box) – Highlight how applicant's current and future research plans will help advance the field of cancer cachexia.
CV (file upload) – Highlight up to three relevant publications within CV in BOLD.